Motor Boat courses
Courses are arranged by appointment March to November
From monday to sunday 10am to 8pm
Individual lesson of 1h30 each
Courses are possible with a second person (friend or partner)
TO RESERVE A COURSE* :
*For all new students, please contact us by email info(at)ecole-de-voile.ch or by phone 021 635 58 87
Prices for Motor Boat Courses
Package 12h motor boat license ( 8 lessons of 1h30 )
Course possible with a second person (friend of partner)

Sfr. 990.-

(=Sfr.82.50/h)


Sfr. 745.-/pers.

(=Sfr.62.-/h)

Package 6h motor boat license ( 4 lessons of 1h30 )
Course possible with a second person (friend of partner)

Sfr. 525.-

(=Sfr.87.50/h)


Sfr. 395.-/pers.

(=Sfr.65.-/h)

Motor boat lesson or initiation ( 1 lesson of 1h30 )


Possible with a second person (friend of partner)

Sfr. 135.- (=Sfr.90.-/h)
Sfr. 75.-/pers.

(=Sfr.50.-/h)

Course on student's boat
+ trip (1.-/km back and forth from Ouchy)

Sfr. 90.-
Validity of packages = 12 months after the first lesson
For a good preparation and mastering the elements asked during the exam, the experts of the Service of Navigation (SAN) recommend in average of 10 lessons of practice to succeed.
The Sailing School of Ouchy is part of AMOBATEAU and offers you Motor Boat courses in english in order to carry out the swiss lake license (Cat. A). Courses are taking place in Ouchy-Lausanne.
Under the governement, a boat driving license is required for the operation of motor boats whose propulsive power exceeds 6kw.
If you wish to do your motor-boat license (Cat. A), you have to fulfill the following form :
Download here
Available in our office, we can provide you the form and also the theory books and an application to prepare for the theory exam:
THEORY BOOK BOATDRIVER: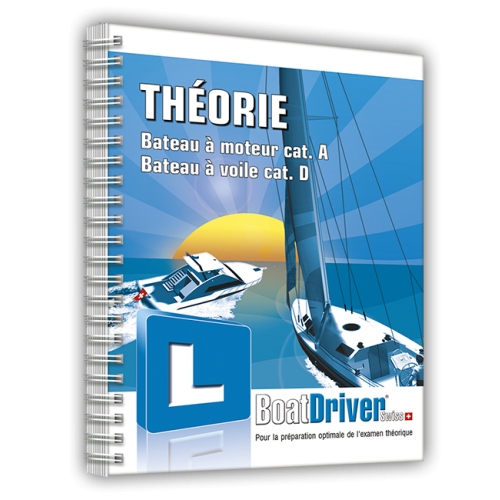 Please, do not hesitate to contact us for more information.
WANT TO GETAWAY AT SEA ON BOARD OF A SAILBOAT ?
Discover our partner's website:
www.voile-evasion.ch

COMMENTARIES:
Je ne dirais que: merci à Alex pour sa compétence, sa gentillesse et sa patience.

Bruno B. 02 Juin 2018

Viviane M. 18 Avril 2018

Sylvain T. 20 Octobre 2017

Carlo C. 13 juillet 2017

Cynthia K. 16 juin 2017

Fishman D. 24 mai 2017

Quentin H. 27 avril 2017

Adam C. 14 mai 2017