Cruises
Sailing Training ? or Relaxing Cruise for holidays ?
Our sailing school of Ouchy provide as well sailing trips on Sea for traineeship or sailing trips for holidays to enjoy the sun and see wonderful landscapes. We offer cruises to the cabin or by privatizing the boat. For privatized cruises, thank you to contact us!
-------------------------------------------------------------
SAILING TRAINEESHIP FOR YOUR SEA PERMIT ?
Our sailing trips are good to validate some nautical miles, before or after your theoretical exam. The objective is to get initiated or improve yourself in driving a sailing boat on the sea.
Sailing training of 7 days ~400 nautical milles:
Sailing boat of 11m for a training of max. 4 people + the skipper teacher (FRENCH SPEAKING ONLY)
Start from the Port : MARSEILLE - France
No experience requiered : the teacher adapts to all levels
Beginners and Advanced welcome
Purpose of the training : Learn how to become a skipper including pilotage (routes and tides calculation), safety on board, day and night navigation, port and off-shore maneuvers, anchorages, berthing, etc ...
Course and itinerary according to the desire of the crew.
BUDGET: EUR 990/pers. (boardcash included)
Transportation and other personal fees to your charge. (Car, train; aircraft are possible)
DATES:

DU 14 to 21 SEPTEMBRE 2019

(FULL)
Subscriptions before the 10 juillet 2019
ou
DATES:

DU 16 to 23 MAY 2020

(FULL)
Subscriptions before the 10 mars 2020
FOR MORE INFORMATIONS: Please contact-us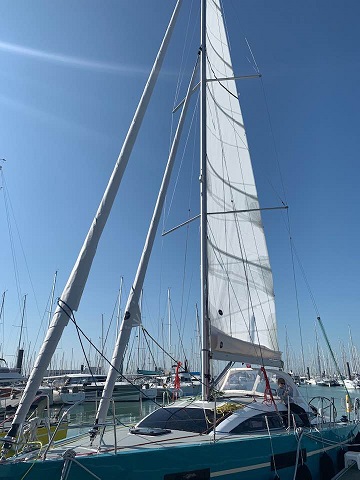 -------------------------------------------------------------
WANT TO RENT A SAILBOAT ?
Discover our partner's website:
www.voile-evasion.ch

WANT DIFFERENT TRAINING ON A SAILBOAT ?
Discover our partner's website www.croisieres-sur-mesure.ch
and tell him you come from Sailing School of Ouchy